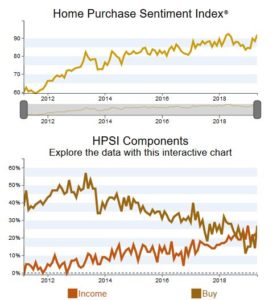 The Fannie Mae Home Purchase Sentiment Index® (HPSI) increased 3.7 points in May to 92.0, just shy of the survey high set last May.
A 13-percentage point increase in the "Good Time to Buy" component drove the index higher. The net share of respondents expecting home prices to go up and mortgage rates to go down over the next 12 months also increased by 5 and 3 percentage points, respectively.
"Another sharp rebound in the 'Good Time to Buy' component lifted the HPSI nearer its survey high set during last year's home-buying season, though several uncertainties remain," said Doug Duncan, Senior Vice President and Chief Economist at Fannie Mae. "While consumers' more favorable mortgage rate outlook suggests continued support for housing affordability, potential home-buyers still face supply constraints.